Prerequisites for BSN Degree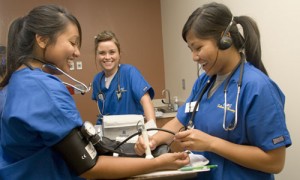 This guide to prerequisites for BSN degree programs assists current and aspiring nurses with planning their education. According to the United States Bureau of Labor Statistics (BLS), nurses provide patient care and educate the public on important health issues. Candidates need a nursing certificate or specialized degree in conjunction with exam certification.
Candidates working as licensed practical nurses (LPNs) bathe and assist patients under close supervision. Registered nurses (RNs) work with physicians to create patient care plans and supervise LPNs. A bachelor's degree in nursing (BSN) takes four years to complete and provides a foundation for nursing careers. Masters of Science in Nursing (MSN) programs prepare individuals for leadership positions within the health care industry. BSN degree holders work within a variety of healthcare settings, including hospitals and physicians offices.
Prerequisites for BSN Degree Programs
BSN candidates range from licensed nurses to undergraduates interested in healthcare. A high school diploma or general educational development (GED) certification is mandatory. Undergraduates must meet minimum grade point averages (GPA) in core classes before starting nursing courses at schools like Indiana University in Pennsylvania. The University of Washington at Seattle only accepts applicants with experience in a healthcare setting. Johns Hopkins University School of Nursing conducts background checks on every accepted candidate to ensure patient safety.
Undergraduate core subjects include human anatomy, statistics and introductory writing. Nursing courses range from dimensions of professional nursing practice to international public health nursing. After completing prerequisites for BSN degree programs, undergraduate candidates apply to the state board for licensing and register for the national council licensure examination (NCLEX). Successfully passing the NCLEX indicates an individual is ready to work in a professional setting.
The following BSN programs rank among the nation's best according to U.S. News and World Report:
The University of Washington at Seattle School of Nursing offers a full-time, two-year BSN program that emphasizes diverse clinical work in and around the greater Seattle area. Students in good standing have the opportunity to work as nurse technicians while completing their degree. Degree costs for the 2012-2013 school year are approximately $9,972 per semester.
University of Pennsylvania School of Nursing offers an 18 month accelerated program for previous degree holders and licensed RNs.  BSN second degrees are primarily for candidates currently working outside the healthcare industry. BSN/MSN programs accommodate candidates selecting a nursing specialty. Candidates enrolling in BSN/Doctor of Philosophy (PhD) classes obtain their PhD in Nursing. Annual tuition for the 2012-2013 school year is approximately $59,600.
University of California in Los Angeles (UCLA) School of Nursing offers teaching apprenticeships. The program encourages students to continue their education and earn an MSN. UCLA hosts a summer research program that gives U.S. nursing students an opportunity to work with faculty members on prestigious projects.
BSNs create opportunities for career advancement and pay raises. Programs are available in traditional classroom settings or through top online RN to BSN programs for convenience. Before applying candidates should verify they meet all prerequisites for BSN degree programs.