How to Become a Nurse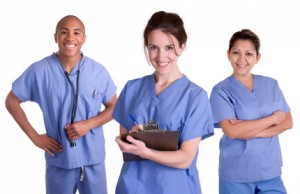 Because of the different options available, it can be difficult to figure out how to become a nurse. There are four major degrees and three licenses that enable people to be practicing nurses. Nurses all have some college education, ranging from six months or so to 6-plus years. Degrees can be earned in a traditional classroom setting or from one of the best online RN to BSN programs.
Entry-level nurses who complete a 6-12 month certificate program are licensed as an LPN or LVN. Nurses who complete either a two-year associate's degree or a four-year BSN are licensed as RNs. Advanced practice nurses are licensed after receiving an MSN, which is a graduate degree in nursing.
Depending on which type of program you are interested in, prerequisites typically include science courses such as anatomy and chemistry and English courses such as basic composition. During training, nurses receive both theoretical knowledge such as human physiology and practical training like placing IVs and giving medications.
Nursing is a demanding field that requires people to be physically on their feet for many hours a day. It provides a moderate wage and widely variable working conditions. In most areas of the U.S. there is a constant nursing shortage and plenty of jobs are available for new graduates.
Where to Learn How to Become a Nurse
Choosing an accredited school is important as most state licensing boards require that training programs be completed at an accredited facility. The state board of nursing can tell you which schools are accredited. However, you will have to look up each school's ranking yourself.
South Seattle Community College is an example of one school that offers an on-campus LPN program. Their course of study takes four quarters, or one full year to complete and is mostly conducted during evenings and weekends. It requires seven prerequisite courses before an LPN program application can be submitted.
College of the Redwoods offers an Associate in Science degree that prepares students for the RN exam. It takes 2 full academic years or four semesters. Students first apply as pre-nursing and complete prerequisites before they are admitted to the nursing program.
How to Become a Nurse Online
Most online nursing programs are so-called 'bridge' programs. They allow students with a certain degree or license to move up to the next option, sometimes skipping one or more in-between. There are LPN to RN program, LPN to BSN programs, RN to BSN programs, etc. Initial LPN degrees are usually not granted online because some hands-on training is required.
Hutchinson Community College offers an online LPN to RN program that confers an associate's degree completely online. It also offers an EMT-P to RN program online. Students must have either graduated in the last three years from their LPN program or have recent work experience in the field.
Aspen University offers a completely online RN to MSN bridge program. It does not confer a BSN but simply moves RNs with associate's degrees into graduate coursework. The program can be completed in as little as two years. The steps in learning how to become a nurse differ depending on which degree you are seeking and how you wish to obtain the degree.