Registered Nurse Education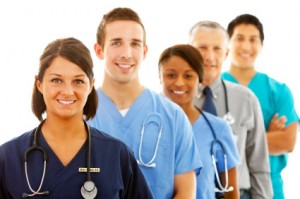 A high-quality registered nurse education program can help an individual prepare for the duties of becoming a nursing professional. There are various educational pathways that an individual can take to obtain their nursing license. Nursing diplomas and certificates take one year to complete and allow individuals to practice as a licensed practical nurse (LPN). A two-year associate degree program in nursing qualifies individuals to become a registered nurse (RN). A Bachelor of Science in Nursing (BSN) degree enhances career opportunities by preparing individuals for supervisory and educational positions. A Master of Science in Nursing (MSN) degree helps prepare nursing professionals for more advanced positions and may include opportunities such as conducting medical research.
Registered Nurse Education Courses
Every college and university that offers a nursing degree program must offer courses to satisfy a standard curriculum. Anatomy and physiology teaches about the different parts of the body and how they relate to each other. It also helps to develop an understanding of how the body parts function as a whole. Medical terminology is required to effectively communicate with other healthcare professionals about the human body and the conditions and processes related to it. Courses focusing on the law and ethics in nursing are required to prepare students for common issues that may be encountered throughout their nursing career. Courses that develop leadership and management skills are necessary for supervisory roles.
Where to get a Registered Nurse Education
When researching where to get a Registered Nurse Education, you will find that no matter where you live or how you choose to pursue your degree, there are many great options out there.
Brown Mackie College has several high ranking campuses located throughout the country to accommodate a variety of students who have an interest in earning an associate's degree in nursing. Day and evening classes are available and students can enroll anytime. Each class is one month long so students can focus their study on one subject at a time.
Breckinridge School of Nursing and Health Sciences is a division of ITT Technical Institute that offers individuals the chance to begin their career in nursing with assistance before and after graduation. Accredited by the Accrediting Council for Independent Colleges and Schools, Breckinridge School of Nursing offers courses six to twelve weeks in duration and financial is offered in the form of loans, grants and scholarships.
Kaplan University online offers several nursing programs from diplomas to the master's degree in nursing. Kaplan University employs highly-educated, experienced instructors that offer assistance and guidance to students throughout their educational experience.
Beyond a Registered Nurse Education
Registered nurses have a wide variety of career opportunities that can lead to a lifetime of satisfaction and fulfillment. Obtaining a BSN is essential to advancing a nursing career past the level of duties of an RN. Advanced degrees prepare RNs to educate others and work in specialized fields such as anesthesia or as a nurse practitioner. A registered nurse education is the first step to becoming a part of a healthcare team that makes a difference in the lives of others.
Additional Resource: Best Online RN to BSN Degree Programs